Teachers in Washington D.C. resigned in far greater numbers throughout the end of the 2022 academic year than in previous years, according to data assessed by the Washington Post.
D.C. public schools, along with several school districts in Northern Virginia (consisting of the state's biggest institution system, Fairfax Region) saw spikes in teacher attrition, though the variety of instructors resigning from other location districts was consistent with previous years.
In 2019, the most recent full school year prior to the pandemic, 239 educators resigned. In the first six months of 2022, 372 teachers (approximately 9.3 percent of the overall instructor workforce) quit– a 52 percent increase.
According to the Washington Post, instructors are mentioned as reasons for leaving the trouble instructors had to readjust students to in-person learning, as well as increased scrutiny from parents over exactly how school should instruct regarding race, bigotry, background, gender, as well as sexual orientation.
"I think it's a perfect storm," said Kimberly Adams, president of the Fairfax Education Association in Northern Virginia.

"A lot of people are just saying, 'I can't do this anymore,' and telling us they would rather have a job where they feel valued," she said. "Teachers are just feeling attacked by the public on every front. I don't think we've heard enough from the people who support us."
A teacher that resigned in March claimed that school administrators put extra stress on educators to help students to offset learning losses that occurred throughout the pandemic restrictions.
New survey data from the National Education And Learning Organization (NEA) reveals that 55 percent of educators are currently taking into consideration leaving the occupation earlier than they had planned. That represents a 22 percent increase from the beginning of the 2021-2022 academic year.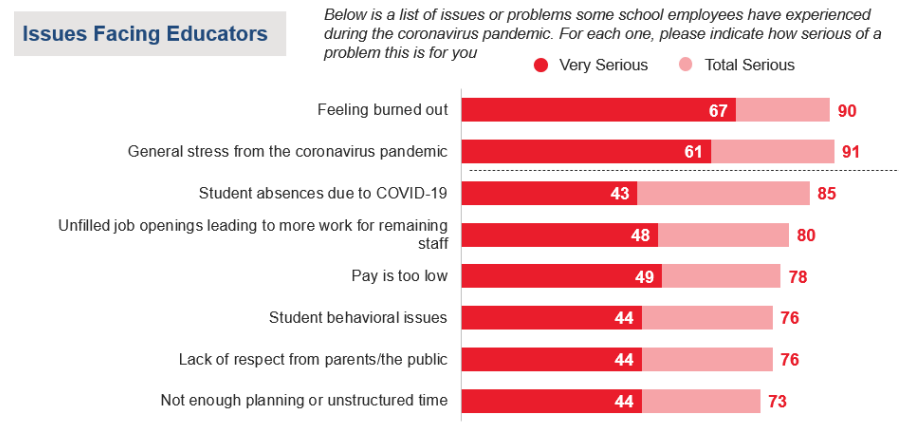 National Education And Learning Organization (NEA) Study Data: 2022
The NEA report points out fatigue as the leading concern encountering teachers right now with 90 percent reporting it's at the very least a rather serious issue. General anxiety from the pandemic is reported as a rather serious concern for 91 percent of instructors.
NEA president Becky Pringle believes the pandemic intensified the already dire staffing scarcities dealt with by schools throughout the nation.
"It is preventing educators from giving their students the one-on-one attention they need. It is forcing them to give up their class planning and lunch time to fill in for colleagues who are out due to COVID," Pringle said.

"This is a five-alarm crisis," she added. "If we're serious about getting every child the support they need to thrive, our elected leaders across the nation need to address this crisis now."
When asked about solutions to these concerns, respondents to the NEA study claimed they want to see greater incomes, even more, mental health sources for students, less documentation, and hiring even more instructors and sustain teams.
H/T Timcast